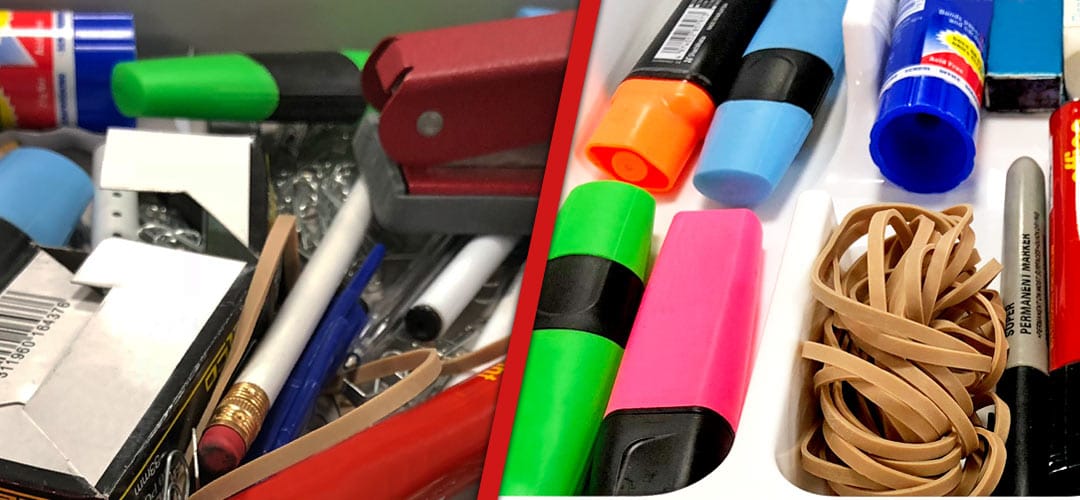 Home office organisation is becoming ever more popular over the past two years during the pandemic. But do you suffer from the dreaded messy desk drawer? Have trouble locating your trusty pen or favourite highlighter? It's a common problem, but this simple hack is just what you need … just like you do in the kitchen.
HomeLeisure has a way to keep you organised and tidy in the home office with the Trend Double-Up Cutlery Tray.
We keep our knives, forks and spoons in the same place in the kitchen for easy reach without looking, so why not do the same with your stationery necessities at your desk?
Made in Australia, the Trend Double-Up Cutlery Tray isn't just for the kitchen, it is also a perfect way to reduce the clutter and maximise space at your desk. Plus with a removable tray on top, you are able to store more than you could ever before, all neatly and compactly.
Unsightly messy drawers will now be a thing of the past. Follow these easy steps for perfect desk organisation.
Empty and Downsize
The first step is to empty your draw out. While you're doing this, you may need to ask yourself if you really need four of those black pens and that bottle of dried-up correction fluid. Take this opportunity to cull the bulk and reduce your writing to the essentials.
When you have decided what you are going to keep, wipe the drawer clean and get rid of the dust and pen marks. Once it is clean, it will remain this way for months to come when you've finished.
Lay the Framework
Now it is time to deploy your secret organisation weapon. Place the Trend Double-Up Cutlery Tray into your empty, freshly-cleaned desk drawer. See how well it fits (if not, try sideways)? You will be wishing you thought of this earlier.
Set aside the ever-so-handy additional tray, as you will be using this shortly.
Set It Up Your Way
There's nothing like a clean slate to start again setting things up the way you want them. That time is now as you place your culled stationery back in your drawer, in a way better than ever before.
First, place a bulkier item such as rulers, scissors, markers and staplers on the bottom, full tray piece. Some of these will fill some spaces better than others; rulers, for example, will need the longest space along the edge. These areas are where you will place items that you don't use as regularly. Why? The next step is the killer feature that will make your life so much easier.
Organised Like a Boss
The additional, on-top sliding tray of the Double-Up Cutlery Tray is its best feature. It gives you bonus additional storage space to maximise your organisational area, and as it is only half the width of the overall tray it is easy to still get to the things on the bottom that you don't use as often.
Place the things you use the most throughout your day in this sliding tray, such as your essential pens, pencils and paper clips. As this sliding tray is on top, it will be the first thing you see when you open the drawer, so naturally, it should contain the things you use the most.
Now you're all organised and ready to do business with a more productive office environment, with a neat and tidy desk draw that contains all your stationery in order and ready at a moment's notice. What other home office organisation hacks have you discovered lately?