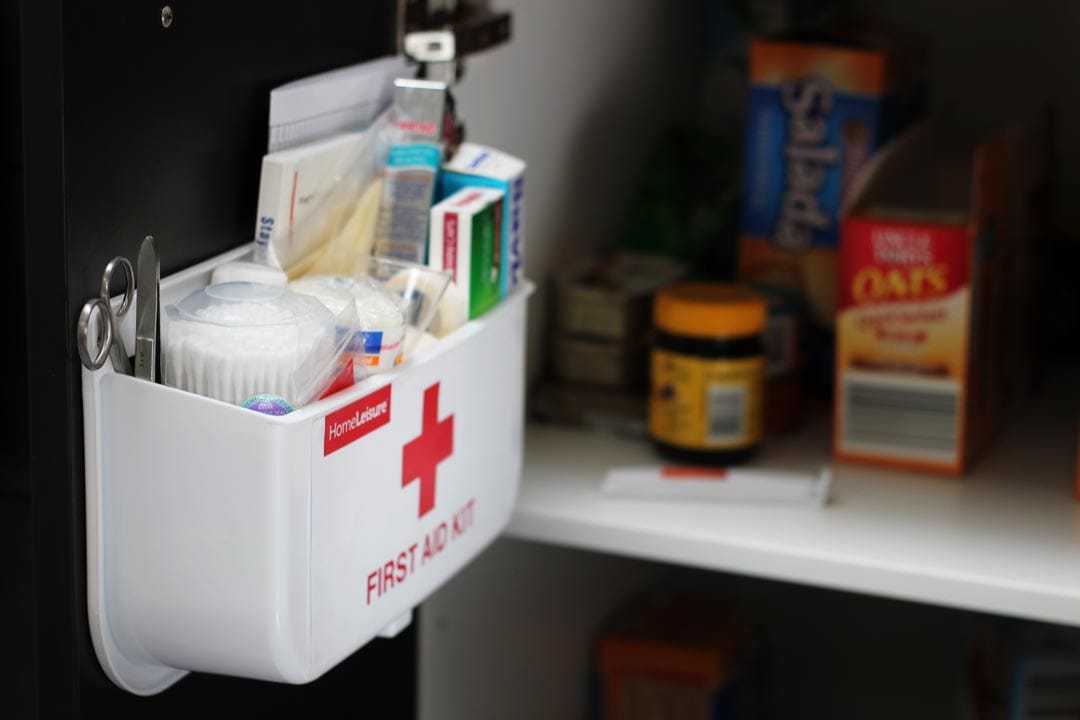 There's no denying the importance of a first aid kit in the home. When a medical emergency happens, having what you need at hand to stop the bleeding or treat a burn is not only extremely convenient but in the best interests of your family's health and safety. Ever considered DIY-ing a first aid kit? It's more beneficial than you may think.
A standard first aid kit should contain several items to treat a range of home emergencies. Some sources list dozens of items and recommend your kit be kept in the bathroom. However it makes good sense to make additional first aid kits with the basics for your kitchen, garage and garden shed so you have the essential items you need as close as possible.
We'll show you how you can create a convenient first aid kit for your home.
To hold your first aid items together and easily grab things in a hurry, use a Trend Lid Tidy by HomeLeisure. While intended to keep your many container lids together in one place instead of being lost through your kitchen cupboards, it's a perfect size for this task. It can be screwed to a wall or back of a cupboard door, so your first aid kit will always be there when you need it – just make sure you keep it stocked and replace any expired items.
So, what should be in your first aid kit? Everyone's needs are different, and if a member of your family has a certain medical condition or is more prone to certain incidents, you should customise it to suit. For example, if you have active kids that play a lot in the garden, or if this first aid kit is going to be in the kitchen, you should include extra adhesive bandages/strips (also called band-aids) for cuts.
Items to include in the first aid kit:
Adhesive bandages/strips (band-aids). A box of various sizes will be good for more situations, and consider a waterproof variety for the kitchen.
Antiseptic wipes/liquid
Pain relief medication. Be sure that medications are stored high up and out of reach of small hands.
Small scissors.
Disposable gloves. If you have a box of disposable gloves, keep a pair or two in your handy first aid kit inside a zip-lock bag.
Gauze swabs.
Cotton wool swabs.
Tweezers.
Safety pins.
First aid booklet.
List of items you have in your first aid kit.
List of emergency contacts and addresses.
Once installed go through it every six or twelve months to check you have the right quantities. Be sure to check expiry dates and those sterile items haven't opened or been damaged.
To further call attention to your first aid kit, download one of these templates and attach it to the face of your Trend Lid Tidy by HomeLeisure. To download, simply click one of the links below and print on your home printer. Keep the correct size be sure to click 'do not scale' in your print dialogue. Also available is a version with a fun cat/bandage pattern for the pet lover in you also great for the kids to colour in.
HomeLeisure First Aid Kit DIY Label (26KB)
HomeLeisure First Aid Kit DIY Cat Label (157KB)
First aid kits can be of all different sizes and customised to different areas. The more you have the more convenient and less stressful a situation can be. So why not have one in the kitchen, garage, one on each floor or even outside in the garden/pool shed.